Among other fields, RFID technology has transformed supply chain management and tool tracking. However, it hasn't been widely used in consumer-facing applications due to cost and adoption concerns. But with the increasing availability of NFC-enabled smartphones and the decreasing cost of RFID and NFC tags, the tide is turning. NFC is now gaining acceptance in advertising campaigns, products and events around the world. In this article, we'll explore some of the most innovative and effective uses of NFC in marketing. Use these ideas to inspire your own RFID and NFC advertising campaigns and stay ahead of the curve in this exciting field.
NFC Marketing: An Overview
NFC marketing refers to a proximity-based marketing approach. It allows businesses to interact with customers or prospects through small physical objects or locations. This type of marketing relies on NFC tags or stickers embedded in out-of-home displays or products. With NFC technology, users can easily exchange information by simply tapping their NFC-enabled device on the tag.
Related Articles: NFC Tag Stickers For Beginners
Understanding NFC Technology
NFC, or Near Field Communication, is a wireless communication technology that allows for data exchange between two devices at close range. It operates on a frequency of 13.56 MHz and can transfer data at a rate of up to 424 Kbps. NFC can transfer various data types, including text, images, and URLs.
Related Articles: RFID vs NFC: What's the Key Difference?
How Marketers Can Leverage NFC Technology
NFC technology offers a range of opportunities for marketers to engage with their target audience. Marketers can create interactive and immersive customer experiences by embedding NFC tags in marketing materials. For example, customers can tap on an NFC poster to get more information about a product or service. They can even buy directly from the poster. Using NFC technology, marketers can create more personalized and engaging experiences. It can help companies increase brand awareness and customer loyalty.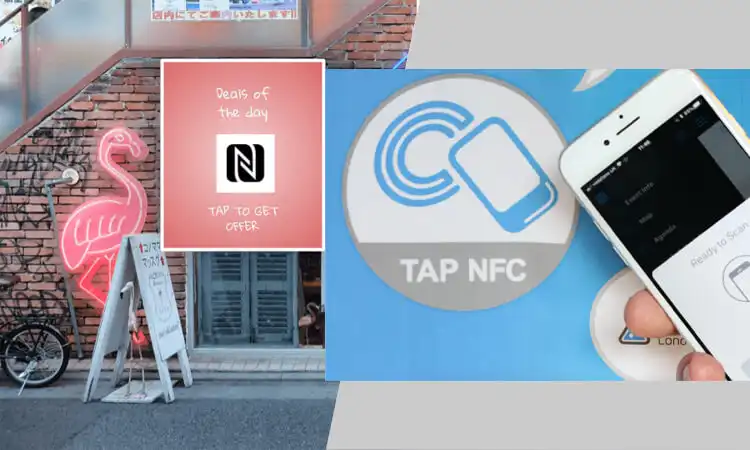 Related Articles: 16 Eye-Opening Ways of Using NFC Tags
Successful RFID and NFC Marketing Campaigns Examples
RFID and NFC technologies have been used in numerous successful marketing campaigns over the years. Here are some examples: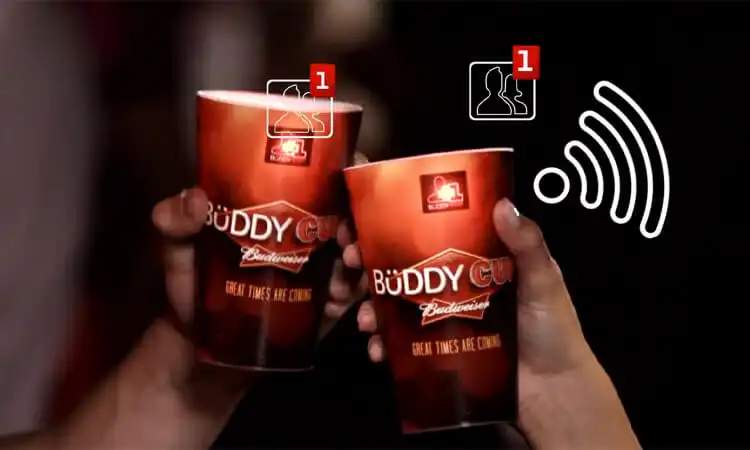 NFC-enabled Lexus Ad Appears in Wired Magazine
Wired magazine, focused on technology, partnered with Lexus for an innovative NFC ad. It intrigued readers to tap their phones against the page. When phones detected the tag, a URL opened—revealing an engaging video on Lexus'stouchscreen dashboard's star feature: the Enform App Suite.
This ad demonstrated NFC's power to connect print and digital seamlessly, bringing the page to life. A simple tap transported subscribers to an immersive experience, engaging their interest in the brand's message. Lexus highlighted how NFC creates seamless user journeys across media. It gave readers a hands-on preview of the suite's capabilities, potentially influencing vehicle shopping choices.
Budweiser Lets You Make Friends with a Glass
Budweiser Brazil collaborated to craft the Buddy Cup, ingeniously enabling drinks and new friendships. An RFID cup that establishes intimacy between raising a cheerful toast is provided to both holders. The simplest clink now sparks a seamless sync, easily forging a connection on Facebook.
To link up and account, an obscure QR awaits under the rim, facilitating a state-of-the-art bond between drink and digital. Each raise of glass opens the door to gaining new Facebook friends with whom to share life's adventures, large and small.
RFID awakens the cups to identify one another spontaneously, then attract followers through the unassuming act of sociability alone. No names or IDs swapped, just wonderful conversations and the possibility of a friendship for the remembering. Budweiser transformed the drinking experience itself and how people connect over it.
Work Club's RFID-Enhanced SmartCap for Strongbow Gold Cider: An Interactive Experience
Work Club, a London agency, designed the RFID-enhanced SmartCap for Strongbow Gold Cider. An interactive cap activating an event whenever a bottle opens is installed throughout bars where limited editions gather.
RFID readers trigger the chip within as a bottle cracks open, initiating an experience ranging from Foursquare check-ins to confetti showers. The SmartCap crafts moments of delight and whimsy with each pour, forging memorable moments around the brand.
Launched to spread cheer and elevate the drinking experience, SmartCap achieves goals of Engagement and word of mouth. Turning otherwise ordinary pours into media moments and social signals, not soon forgotten. No occasion too small for a celebratory confetti cannon, no gathering too lacking in meaning for a Foursquare check-in.
Strongbow transformed how patrons interact with and envision their products. No longer merely quaffed, but toasted with delight and digital documentation at every opportunity. SmartCap brings people together through laughter and inside jokes meant to last rather than lonely, unremarkable consumption.
RFID with Hansmann's Mayonnaise
Hellmann's and digital agency Cubocc devised an interactive shopping experience in a Sao Paulo market. Equipping carts with an RFID tag and touchscreen, RFID sensors scatter inspiration throughout the store.
Browsing transformed into an inspired journey of discovery as Hellmann's mayonnaise and possibilities came together. Customers saw recipes and videos of how favorites might combine for unforgettable feasts. Hamann has changed the way customers think about toppings. It offers flavors that go beyond mayonnaise itself.
Domino's Launches Outdoor NFC Advertising Campaign
Domino's served up an outdoor ad campaign with interactive magic at each glimpse. Posters became portals to pleasure and ease, delivering apps for the asking. A tap awakened downloads, inviting discovery and delight. It transformed static signs into dynamic connections. This innovative approach achieved goals of Engagement, convenience, and word of mouth.
RFID Connects Clothes to Music
A Singapore music shop crafted a sensory experience seamlessly connecting style and delight. Each garment bore an RFID tag, awakening a journey of discovery whenever an item found its way to the dressing room.
Speakers sprang to life with a song perfectly suited to the clothing, enveloping customers in mood and style. A text message offered a free download of this serendipitous discovery. A synergy of this spark of inspiration and joy made manifest.
Chaotic Moon's Innovative Grocery Shopping Experience with Kinect, Tablet, and RFID
Chaotic Moon created an experience transforming grocery into joyful discovery. Equipping carts with Kinect, tablet, and RFID, Whole Foods' vision came alive as shoppers uploaded lists and began a well-being journey.
Items marked themselves off the list as shoppers walked the aisles. This innovative approach used technology to craft connection and delight. It provided instant gratification and inside jokes between customers, carts, and favorite brands.
Keurig Vue System: A Revolution in Coffee Brewing with RFID Technology
Keurig brought RFID to their Vue commercial brewer. The Vue system offered single-cup brewing with temperature, strength, and size choices. For those wanting ease over settings, Keurig debuted MyBrew pods.
These pods carried an RFID chip storing each coffee's recipe. An innovative approach using technology to achieve convenience, customization, and delight. It provided instant access to personalized favorites, new discoveries, and inside jokes between customers and brands.
This experience transformed how people connect with coffee. No longer just pods, but portals to perfect bliss with each brew. Attuned to personal preferences at every touch.
RFID identified each pod's perfect recipe, instantly allowing users to recreate a beloved brew. Keurig reshaped the ritual of coffee, crafting joy and shared memories rather than repetition or routine.
Burberry London Flagship: A Fusion of RFID and Cinema
Burberry proves the brand's ability to awaken dreams through luxury experiences. Incorporating RFID and film technology allows for endless possibilities of imaginative escape and awakening. The store is a place to get exquisite pieces and a portal to a world of vision and creativity.
Each item in the store is more than just a product with a label. They are stories waiting to be shared through tailored film glimpses that can be accessed simply. Each piece brings the fusion of craft and creative vision to life, guiding customers toward new creative horizons and deeper meaning.
Burberry's innovative approach to retail fuses digital depths and physical poetry. The use of technology and artistry in the London flagship store creates a space calibrated to thrill, excite, and transport customers to new and exciting places. It's a true example of how a brand can create a luxurious and unforgettable experience that goes beyond just selling products.
Coca-Cola used RFID technology in its Share a Coke campaign in Israel. The campaign allowed customers to create personalized Coca-Cola bottles with their names on them. Customers could tap their NFC-enabled smartphone on a vending machine for a free personalized bottle.
NFC marketing enables businesses to interact with customers in engaging and personalized ways. Businesses can create immersive experiences by leveraging NFC technology. the possibilities for NFC marketing are endless and worth exploring for any business looking to stand out in today's competitive marketplace.
Related Articles:
---
About NFC marketing FAQs
What is NFC marketing, and how does it work?

NFC marketing uses NFC technology to enable communication between a mobile device and a physical object equipped with an NFC tag.

How can NFC marketing create personalized customer experiences?

NFC marketing can enable customers to interact with products and marketing materials innovatively.

How does NFC marketing compare to other forms of mobile marketing, such as QR codes or SMS?

NFC marketing offers greater interactivity and a more seamless user experience but requires a mobile device with an NFC chip.