NFC business cards make it easier to exchange contact information. There are also many ways to get it. You can make your own smart business card or customize NFC business card in the online store. Next, I will show you how to DIY your contactless business cards. I have also picked a few best NFC business card brands for you.
What are NFC Business Cards
NFC (Near Field Communication) business cards are digital business cards with an embedded NFC chip. This chip allows the business card to communicate with NFC-enabled devices, such as smartphones or tablets, when brought close.
NFC business cards can be programmed to perform various functions, such as sharing contact information, linking to a website or social media profile, launching an app, or initiating a phone call or text message. They can also be customized with logos, images, and other design elements to make them more visually appealing and memorable.
To use an NFC business card, the recipient must have an NFC-enabled device and an NFC reader app installed. When the card is brought into close proximity to the device, the NFC chip in the card sends a signal to the device, which can trigger the programmed action.
Business Cards with NFC offer several advantages over traditional paper business cards. They are more environmentally friendly, as they reduce the need for printing and distributing paper cards. They are also more convenient and interactive, allowing recipients to quickly access and engage with the information on the card.
NFC business cards are becoming increasingly popular in the technology, marketing, and design industries as they provide a modern and innovative way to showcase information and connect with others. They can help individuals and businesses stand out in a crowded marketplace and leave a lasting impression on potential clients or partners.
The following video introduces three NFC business cards made of different materials and the process of using them:
Why Use NFC Business Cards?
If you're like most people, you probably don't think about your business card much. You might have it on hand when you have a meeting or event to attend, but that's about it.
The problem with this is that whenever you give out your business card, you say: "Here's my contact information." But what if you could give them so much more instead of giving them just your contact information?
That's where contactless Business Cards with NFC come in. The NFC business card is the perfect tool for sharing your details with a prospective customer. It's similar to an RFID business card, but it works much better! With NFC business cards, you can share all the details on your Blinq digital business card account with anyone with an NFC-compatible smartphone.
According to research, the NFC business card market is expected to expand gradually, reaching $17 million by 2021. It is expected to rise to $33 million by 2028, growing at a CAGR of 9.9% from 2022-2028. It means that more and more people are using Business Cards with NFC. In the future, business cards with NFC may replace traditional paper business cards.
Contactless NFC business cards make it easier to exchange contact information. You must touch the card to someone else's device, and the card will automatically transfer data. In other words, you can share data with others in the future with just one gesture. This data includes contact information, courses, and website URLs. You don't need to worry about running out of business cards. Especially when others are handing out paper business cards, you need to take out a business card. NFC tag business cards tap a customer's phone and add your contact details. It is a cool thing.
NFC tag business cards are also very easy to use. Everyone has a smartphone now. Of course, minors may not. Almost 90% of all smartphones sold today support NFC technology, so it is unlikely that Business Cards with NFC will not work. Using NFC digital business cards means that no physical business cards will be lost. It also means that no physical business cards will be lost, and companies will not lose their paper business cards when employees leave. It can also help companies save on unnecessary printing costs.
NFC digital business cards are more convenient than traditional physical business cards. It's much better to carry one business card than many business cards. You can also save more space to store your daily carry-on items. And your backpack or purse won't look cluttered with too many business cards. The point is Business Cards with NFC can contain more information than traditional business cards. Traditional paper business cards usually only have your name, phone number, and address. NFC business cards are different, and they can store more information.
In addition, NFC business cards are easy to impress others. A novel approach often makes it easy for employees or businesses to stand out from a crowd of peers. It can also help you build more rapport with your customers.
I can DIY NFC Digital Business Card by Yourself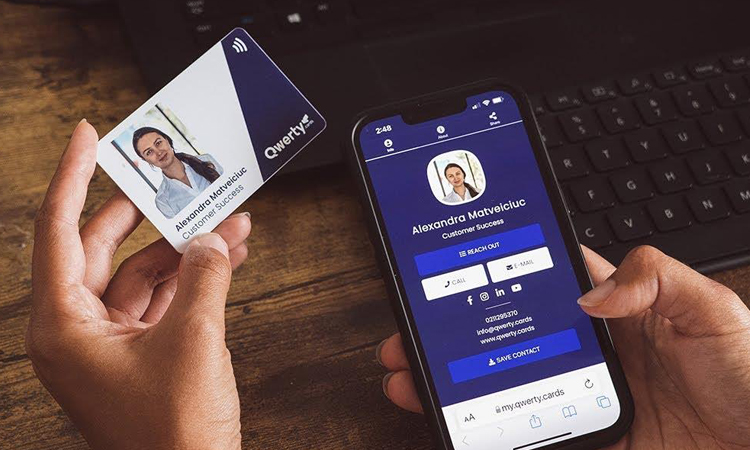 We have discussed why you should apply NFC to your business cards. Next, you can try your own DIY NFC business card.
The materials you need to prepare:
NFC tag
A smartphone with NFC capability
An application that can program the NFC chip
There are many channels for selling NFC tags. You can buy them from Amazon, Supreme Trading, or other channels. Before buying, remember to check how much memory the tag has. The storage capacity of NFC tags is very small. And you need to store all your information inside an NFC tag. People can use many applications to program NFC tags. NFC Tools are some of the more common ones, where you can use NFC Tools to create commands. The application also allows you to open links on your phone using a relatively small number of bytes. Then the other people can open the personal NFC business card you create quickly.
You need to perform a check on your NFC tag. Check if the tag is blank. If there is data in the folder memory, you will need to format it. The chip will usually come with a link. This link will help us find the applications we can use on that tag.
The steps to check the NFC tag are simple. First, you need to turn on the NFC function of your smartphone. Next, place the chip on your phone. Soon, you will be able to check the contents of the chip.
When the checking is done, you can confirm the information you want to put on the tag. If you have a small budget and buy an NFC tag with a relatively small storage capacity. You can put a link directly on it. The link can be your Linkedin, Instagram, or Facebook account. You swipe it on the customer's phone, and it will add you as a friend. You can upload your full contact information if you purchase an NFC tag with a large storage capacity. A simple swipe and the customer's phone will appear with your personal information.
You can then create your NFC business card using the application you feel is appropriate. You can choose to create a link or set up your digital profile. Creating a link is a link to a website that can point to one of your pages, as described above. A digital profile is where you set up the entire content of the information you want to upload.
Creating a link to one of your website pages is relatively easy. The steps are as follows:
Open the NFC programming application you are using
Select Write from the main menu
Add Record
Select URL/URI in this list
Enter the URL of your digital file
Click OK in the upper right corner and click Write
Press the NFC card to the back of the phone and hold it in place
Confirm that the writer was successful
If you encounter an "error message" displayed, you must start over and retry. All that remains is to check if your NFC card is set up successfully. You can hold the card close to your friend's smartphone. Normally, the proximity should be enough to trigger the link to appear. Once the link appears, you can also have them open the URL in a web browser. Your friend can view your digital profile, access your contact information, and more.
After confirming that the NFC chip is set up, you can consider decorating your NFC business card. You can use two sheets of A4 paper or other printing paper to paste the NFC tag in the middle. You can customize the paper with the style and content you want.
Finally, you will have your own best NFC business card. You can use your DIY NFC business card to deliver your contact information and expand your network. Exchanging contact information with a customer is easy. You can swipe your NFC business card next to his phone and put it back in your pocket. It's convenient and eco-friendly. You can buy NFC business cards directly if you don't want to go through the hassle. Usually, you tell the merchant what you want, and they will make the business card for you.
In addition, you can use your NFC card to perform many quick functions. This article will give you a lot of inspiration: Using NFC Tags 16 Fun Ways
The 6 Best NFC Business Card on the Market
V1CE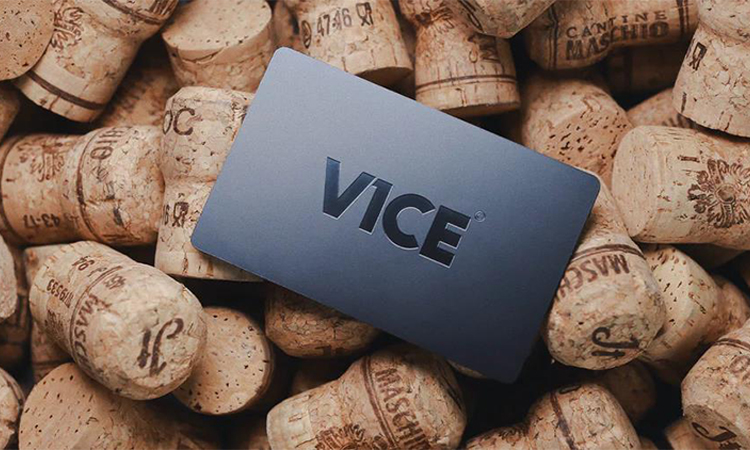 V1CE offers three different manufacturing materials to businesses. These materials are plastic, wood, and metal. The cards are also available in a variety of colors. V1CE also offers a free design platform for businesses to use. Plastic cards are the best choice for the vast majority of businesses. The price of V1CE business cards ranges from $50-$185. Prices will vary by material.
POPL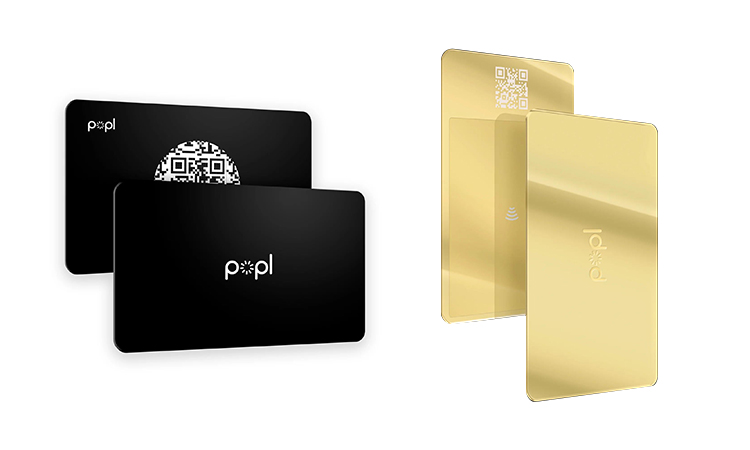 POPL can bring a more eye-catching option to businesses. The brand offers PVC, metal, and 24K gold options. 24K gold is a luxurious option that is also easy to impress. Gold is not necessarily an offensive symbol. Imagine someone else with a plastic or paper card, and you pull out your gold business card. That must be cool!
POPL also supports you in integrating your profile with the app. The business card also has a QR code and supports you in integrating your business card with CRM and email providers. But POPL also has an obvious drawback. Since the demand for these cards is usually high, you may have to wait a long time. POP cards range from $19.99 to $44.99.
Moo Card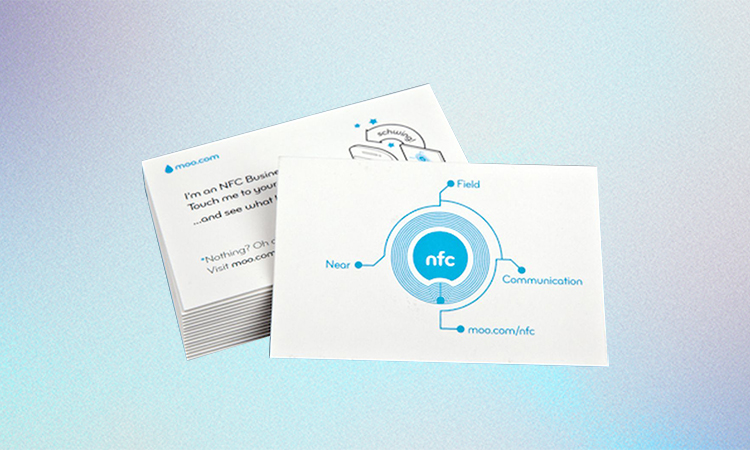 Moo Cards usually give people a stylish and practical feel. The brand is fashionable and artistic. Moo Cards cost between $20 and $37.
Metal NFC Business Card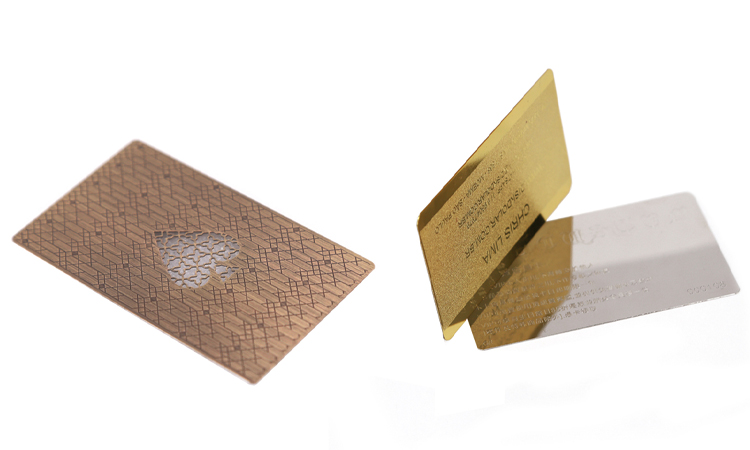 Business cards made of metal usually leave a lasting impression on others. If you like to stand out, then it is a great choice. The brand also offers options in stainless steel. Enterprises can choose different materials for customized production according to their own needs. Metal NFC business cards are available for as low as $2.28. However, you need to know that they have a minimum size order. Since they are metal business cards, they also require more production time than regular ones.
Linq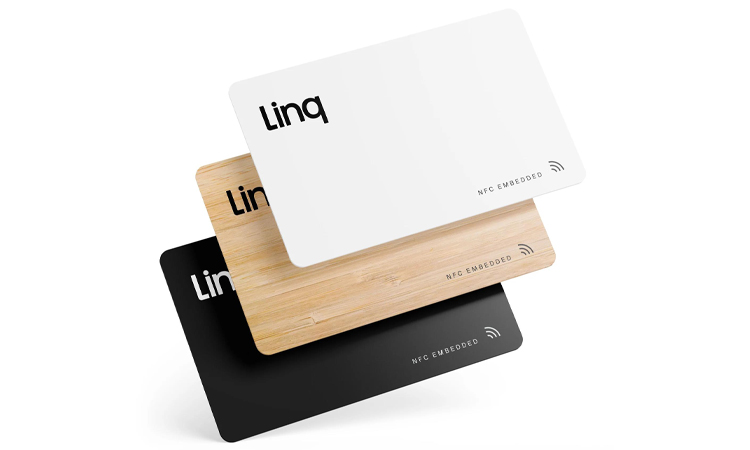 Linq's NFC cards are available in a wider selection of premium materials. These wireless business card are in scratch-resistant frosted polyethylene, wood, and stainless steel. Each of them is available in more than eight colors for businesses. They offer a customized card service. However, this service is only for plastic Linq cards. The price of cards made of different materials varies. A regular Linq card with an NFC business card costs $11. A Linq Band for Apple NFC business cards costs up to $49.99. Linq is among the best NFC and digital business cards on the market. Because the brand offers more NFC-embedded alternatives.
Mobile Card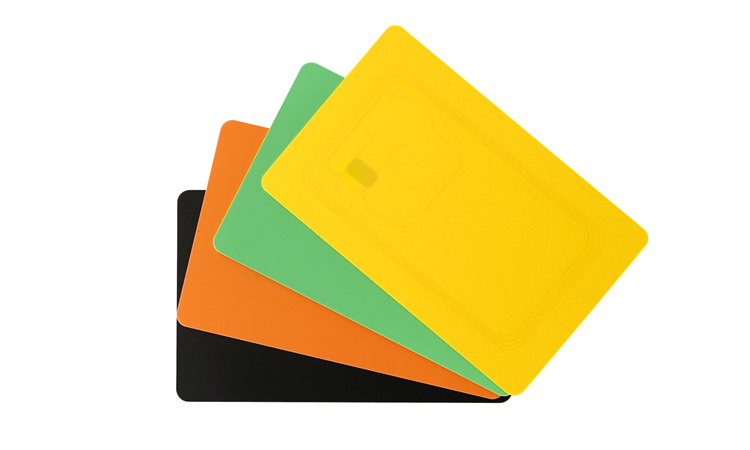 The Mobile Card is a budget-friendly option. The card is made of a more common plastic material. Companies have the freedom to order a generic style or a custom print. The Mobile Card also supports redirection to digital business cards. It also allows companies to update their contact information in their database anytime. The brand's custom personal business cards range in price from $7-$29.
There are many different styles of NFC business cards on the market. Each different material corresponds to a different price. If you have a big budget, you can order online, saving you a lot of time. Small budgets can also choose to DIY their own NFC business cards. It might be eye-catching.
NFC Business Cards offer a convenient and modern way to share contact information and other data with potential clients and business partners. They can be purchased from online retailers or local printing companies and are easy to use with NFC-enabled devices. Overall, contactless NFC Business Cards are valuable to any business's marketing and networking efforts.
More information about NFC tags:
---
About NFC Business Card FAQs
What is an NFC business card, and how does it work?

An NFC business card is a digital business card that uses Near Field Communication (NFC) technology to transmit information between devices. It works by embedding a small NFC chip into the card, which any NFC-enabled smartphone or mobile device can read.

What are the benefits of using an NFC business card compared to a traditional paper business card?

The benefits of using an NFC business card compared to a traditional paper business card include storing and transmitting more information, the convenience of digital sharing, and the potential for increased engagement and networking opportunities.

What types of information can be stored on an NFC business card?

An NFC business card can store a wide range of information, including contact details, social media profiles, links to websites or portfolios, and other relevant information or resources.

Can an NFC business card be used with any smartphone or mobile device, or are compatibility limitations?

Most modern smartphones and mobile devices are equipped with NFC technology so that an NFC business card can be used with most devices. However, some older devices may not be compatible.

How do I distribute my NFC business card to potential clients or customers?

You can distribute your NFC business card by sharing it digitally through email, messaging apps, or social media or handing it to potential clients or customers.

How can I ensure the security and privacy of the information stored on my NFC business card?

Some NFC business card providers offer analytics or tracking features. This allows you to monitor how many people have scanned your card, which links or information they accessed, and other relevant data.

Can I update the information stored on my NFC business card after it has been distributed?

Yes, you can update the information stored on your NFC business card after it has been distributed by logging into your account or contacting the provider.

What is the cost of producing an NFC business card, and how does it compare to traditional paper business cards?

The cost of producing an NFC business card can vary depending on the provider and the level of customization or features you choose. However, NFC business cards tend to be slightly more expensive than traditional paper business cards.