Most Android and iOS mobile devices today support NFC read and write capabilities. People have also opened up use cases for NFC Bluetooth pairing. By using NFC, you can also achieve many shortcuts. This article mainly introduces how to confirm that your smartphone supports NFC and some quick operations.
NFC Makes Bluetooth Pairing As Easy As Plugging in a Cable
If you've ever paired Bluetooth headphones with your mobile device, then you know how easy it is to do—it's as simple as plugging in a cable.
But what if we told you there was an even easier way?
That's where near-field communication (NFC) comes in. NFC stands for "near-field communication," the technology behind mobile payment systems like Apple Pay and Android Pay. It lets you tap your smartphone or smartwatch on a payment terminal instead of digging through your purse or backpack for your debit card and swiping it in the machine.
NFC is a technology allows devices to communicate with each other over short distances. It works by using radio frequencies to transmit data between devices. Bluetooth, on the other hand, is a wireless technology that allows devices to connect and communicate over long distances. When these two technologies are combined, they form NFC Bluetooth Pairing, which allows devices to establish a wireless connection simply by touching them together.
How Does NFC Bluetooth Pairing Work?
You're probably familiar with NFC if you own an iPhone or Android phone. This technology allows your phone to communicate with other devices by simply tapping them together. However, if you're not sure whether your phone supports NFC Bluetooth receiver pairing, there are a few things that you can check to see if it does.
First, go into the Settings menu on your device and look for the "Bluetooth" section. If there's no option for NFC pairing, then you will not be able to pair your device using this method and will have to use a different pairing method instead.
Second, go into Settings again, but select "Bluetooth" from the list at the top of the screen. You should see an option called "NFC Pairing." If this option is not available, then it means that your phone does not support this function—you'll need another way to pair it with other devices!
Related Articles: Website NFC Tag Messages Explained
Does My Android Phone have NFC?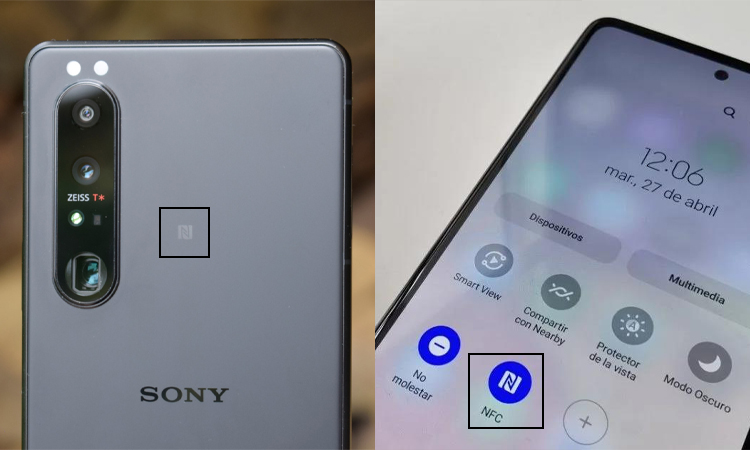 Google Android phones usually determine if your phone is NFC enabled by opening the settings. First, you need to enter the letters "NFC" in the search settings field. Next, you can open it by tapping Enter. If you can't find it in the search, your phone doesn't support NFC. You also can't make contactless payments. Checking if your Samsung Android phone has NFC is easy. You can check it by setting the app ▷ Connect ▷ NFC and contactless payment. If you can see the NFC selection, your device is NFC enabled. It also shows that you can also make contactless payments.
You are sure your phone supports NFC. You can also set the default payment application in the settings. For example, Google Pay or Samsung Pay.
Android Phones that Support NFC Bluetooth Pairing
Brands
Model
Asus
ZenFone 8
ROG Phone series
Smartphone for Snapdragon Insiders
Blackberry
BlackBerry Key: LE, ONE, Evolve, Motion
Google
Google Pixel: 3, 3a, 4a, 6, 6 Pro
Google Pixel 5a with 5G
Samsung
Z series: Z Flip, Z Flip 5G, Fold2 5G, Fold 5G
S series: S21 models, S20 models, S10 models, S9 models, S8 models, S7 models, S6 models, S5 models, S4 models, S3 models
Note series: Note20 models, Note10 models, Note9, Note8, Note5, Note4, Note3 models, Note II
A series: A11 (2020), A21 (2020), A21S (2020), A31 (2020), A41 (2020), A42 5G (2020), A51, A51 5G (2020), A71, A71 5G (2020), A10, A10s (2019), A20, A20s (2019), A30, A30s (2019), A40, A40s (2019), A50, A50s (2019), A60 (2019), A70, A70s (2019), A80 (2019), A90 (2019), A6, A6+ (2018), A7 (2018), A8, A8, A8 Star (2018), A8 (2018), A3 (2017), A5 (2017), A7 (2017), A (2016)
J series: J3 Pro (2016), J4+ (2018), J5 (2016 + 2017), J6+ (2018), J7 (2016, 2017, 2018), J7 Pro (2017)
Some support NFC Bluetooth pairing Android phones
Does Iphone Support NFC Bluetooth Pairing?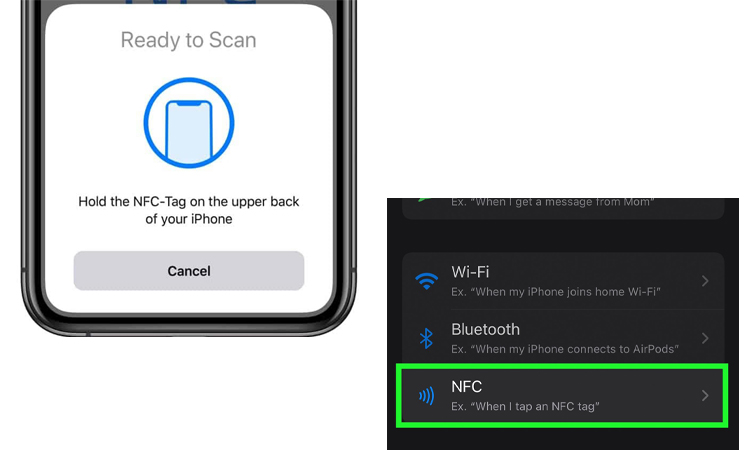 First, you need to determine if your iPhone supports NFC. Every iPhone model launched after the iPhone 6 has a built-in NFC chip. As the first generation of iPhone with NFC, it is limited. The iPhone 6 limited NFC capability for payments via Apple Pay only. Subsequent iPhone 7 and other newer models have more features. They support the use of NFC to read NFC tags. They also supported the use of third-party apps.
Later, iPhones could also use third-party NFC apps to encode blank NFC tags. These third-party NFC apps include NXP's NFC Tag Writer. From the iPhone XS to the iPhone 13, these smartphones also support reading NFC tags directly in the background. Simply put, you don't have to do any manual setup. You touch the NFC tag with your iPhone, and it will be recognized automatically. iPhones with iOS 14 or later can also read more information. This information includes web addresses (URLs), emails, phone numbers, and text messages.
All Apple iOS devices with NFC are incompatible with one-touch Bluetooth pairing. They support other features, such as wireless payments. Many Bluetooth devices now come with NFC, which allows you to pair two devices with each other quickly. Likewise, you can do what you want with the help of NFC stickers. You can also create shortcuts through third-party applications, such as Quick Command or Where. Here is an example of Sony's WH-1000XM4 and Quick Command. You can quickly connect with your Bluetooth headset by following these steps:
Download the software "Quick Command"
Connect your Bluetooth headset with NFC capability
Then open the software and select: Automation
Click Add in the upper right corner "+" to create a personal automation
Select: NFC
Select: NFC Tag Scan
Touch the NFC tag on the headset with your iPhone
After successful scanning, name the tag and select Next
Then you can add the actions you want to run
In the search field, you can enter: Bluetooth
Select: Set Bluetooth, click next
Select: Media
Select: Set play location
Select the previously selected Bluetooth headset that already exists on your phone
Note that the Bluetooth operation is selected as a toggle, then next
Also, remember to turn off: Run pre-loop
Finally, select Finish, and you're done!
With the above steps, you can easily connect the headset to your iPhone in seconds.
NFC Bluetooth Pairing for Android Phones
NFC provides a convenient and secure Bluetooth connection for OOB pairing. We all know that the communication range of NFC is extremely short. But this short communication range helps to improve the security and selectivity of Bluetooth pairing. The remote cannot do any harm to the device being paired with NFC Bluetooth. This distance tapping to wake up the device and pairing connection can avoid connecting the wrong device. In this case, the user can be sure that only the device they need to connect to receives the key.
There are several methods of pairing two BLE devices. Common methods include entering a PIN and performing a numerical comparison. However, people must use these methods in conjunction with a user interface. The user interface usually refers to the keyboard and or display. The increase in these devices leads to an increase in cost, complexity, size, and power consumption. And most NFC applications are small. For example, BlueTooth wireless earbuds. They do not have the extra space to place a keyboard or monitor.
NFC OOB provides another effective way to pair BLE devices. Two classic examples of OOB pairing mechanisms are QR codes and NFC. Because QR codes are static, they are easily covered with dirt or contaminants. NFC is completely different and is superior to QR codes in terms of device pairing, as it does not require a line of sight to operate properly.
NFC-enabled BLE pairing has two very distinct advantages: speed and simplicity. You don't need to scan your radio when pairing with NFC-enabled Bluetooth. You also don't need to set the device to discovery mode manually. Nfc also supports pairing with BLE devices without entering a PIN.
NFC is an extremely low-cost option. NFC is also very energy efficient. NFC devices support deep sleep mode when you are not using them. The device will stay in this mode for a long time until the device wakes up with a tap from the reader.
Let's take the BT headset as an example to introduce.
NFC Bluetooth Pairing Process Steps
To achieve music pairing and send to BT headset:
Select and play your favorite music track.
Tap the BT headset with your phone. At this point, NFC will create a secure environment for BT pairing to transmit credentials.
The phone will automatically initiate a connection request to the BT headset. Before long, the audio is automatically streamed to the headset via BT. You don't need to enter any manual configuration.
Additionally, NFC Bluetooth receiver pairing is supported between two NFC-enabled devices. It allows you to pair and send music to two Bluetooth headphones simultaneously. It allows you to create the unspeakable "silent disco." The steps are as follows:
Tap on the two NFC-enabled headsets. Pairing credentials are automatically exchanged between the two headsets.
A BT connection is established between the two headsets
Soon, audio will automatically flow between them. You do not need to do any manual setup during this process.
Similarly, NFC Bluetooth receiver pairing is available for wireless speakers. It will help you create a multi-audio environment instead of a silent disco. The advent of NFC provides a true one-touch solution. Nfc Bluetooth pairing works with any phone that has NFC capability. It also allows one to use the process without installing any applications.
2 Steps to Cancel the NFC Bluetooth Pairing Process
Stopping the music and unpairing the headset is simple. You only need to make a second tap.
After the second tap, the headset will automatically deactivate the audio and turn itself off.
You can also instantly identify the device that is about to disconnect.
Therefore, you don't have to worry about canceling the wrong paired device. This method helps you avoid unintentionally selecting the wrong device during setup.
Other Examples of Bluetooth and WiFi Pairing that You can do Via NFC
With the rapid growth of the Internet of Things, the number of connected devices is gradually increasing. And NFC can make connecting devices easier. In addition, NFC provides a consistent and enjoyable experience for the user. NFC pairing is a typical use case for NFC applications. People can bring two NFC-enabled devices too close together to establish a connection quickly. For example:
The NFC-enabled device can connect to a TV. You can use your phone to transfer video to your TV for viewing. You can also share your screen between your tablet and TV.
NFC devices connect to your camera. You can select your favorite photos from the camera to transfer.
NFC-enabled devices connect to your wireless speakers. You can enjoy your favorite music.
NFC allows you to connect new devices to your home network.
NFC devices can also quickly connect your wearable devices.
NFC also supports setting up many audio systems.
Examples of NFC Bluetooth pairing are common in our lives. There are also times when you may inadvertently use NFC to accomplish something.
In conclusion, NFC Bluetooth pairing is a convenient and secure way to connect devices. Many modern smartphones, including iPhone and Android, support this technology. Using NFC Bluetooth pairing, users can easily establish connections between their devices without requiring complex setup processes.
Related Articles: Bluetooth vs NFC: Difference Between NFC and Bluetooth
---
General Q&A About the NFC Bluetooth Pairing
What is NFC Bluetooth pairing?

NFC Bluetooth pairing is a method of pairing two Bluetooth-enabled devices using near-field communication (NFC) technology.

How does NFC Bluetooth pairing work?

NFC Bluetooth pairing uses NFC technology to establish a Bluetooth connection between two devices.

What devices support NFC Bluetooth pairing?

Many modern smartphones, tablets, and other mobile devices support NFC Bluetooth pairing.

Can I use NFC Bluetooth pairing to connect to multiple devices?

No, NFC Bluetooth pairing can only connect two devices at a time.

How do I disconnect a device from NFC Bluetooth pairing?

To disconnect a device from NFC Bluetooth pairing, go to the device's settings and look for an option to disconnect or unpair the device.

Can I use NFC Bluetooth pairing on non-mobile devices?

NFC Bluetooth pairing is primarily used on mobile devices but can also be used on other devices supporting NFC and Bluetooth.

Is NFC Bluetooth pairing secure?

NFC Bluetooth pairing is generally considered to be secure, but it is still important to take steps to protect your devices and data from unauthorized access.

How does NFC Bluetooth pairing compare to other pairing methods?

NFC Bluetooth pairing is generally faster and more convenient than other pairing methods, such as manual Bluetooth pairing or entering a PIN code.

Can I use NFC Bluetooth pairing with devices from different manufacturers?

Yes, NFC Bluetooth pairing can be used with devices from different manufacturers if they both support NFC and Bluetooth.

How far apart can my devices be for NFC Bluetooth pairing to work?

The devices must be close together, usually within a few centimeters, for NFC Bluetooth pairing to work.

How do I know if my devices are successfully paired?

When they are successfully paired, you will usually receive a confirmation message or notification on both devices.

Can I pair my devices using NFC Bluetooth pairing without an internet connection?

Yes, you can pair your devices using NFC Bluetooth pairing without an internet connection.