With the emergence of more IoT applications, people's lives are becoming smarter and more convenient. The accelerated growth of IoT home automation has brought many benefits to people. Adopting a secure IoT home automation system will bring you an intelligent life and keep your information safe.
What is a Secure IoT Home Automation System?
The Internet of Things (IoT) refers to the simultaneous connection of multiple smart devices to the Internet. At the same time, they can also receive and send data information from connected devices through the Internet of Things. It is called an IoT device when we can turn a device on and off using just a smart handheld device. People often use the IoT to work with home automation systems to enhance their devices and gain greater security. Second, Internet-connected smart devices are also managed by mobile applications. You can add some protection measures to protect your Internet security from crimes that may occur on the Internet.
You can connect different IoT devices and home automation to its house WiFi. You will be able to regulate and monitor its security devices through specific applications on your smartphone. On the other hand, you can also use many IoT home automation projects to protect and manage your home. These include sensors, motion detectors, and major security control center systems. They communicate wirelessly with your smart devices via the wireless Internet. This system allows you to centrally control your air conditioning and heating and all other devices used in your home.
The more sophisticated your IoT home security system is, the safer your home will be. You can add more sensors to cover your home fully. You can also build your secure IoT home automation system with custom sensors, smoke/gas detectors, and other devices.
IoT Home Automation Benefits
Studies have proven that IoT allows you to regulate easily and control the current state of your home from your comfort zone. They also help to save more energy through technological efforts. According to a UK Carbon Trust study, using sensors can reduce energy consumption by 30%. These sensors can automatically adapt to temperature and pressure. The sensors automatically recognize if someone is in the room and thus adjust the operating status of the equipment. Daylight sensors are also more efficient and will reduce usage by up to 40%. Again, these accessible and reliable IoT devices make homes smarter, and you live with greater peace of mind. Not only that but there are many benefits to adopting a secure IoT home automation system.
Monitoring
The IoT offers a new way to monitor and control processes even when you're not home. At home, a smart refrigerator will notify you a day or two before your food spoils. If you add items to your shopping list that needs to be purchased, a smart fridge will also alert you before you leave the house. Regular IoT apps also collect data on how your home works for analysis. You can view it on specific apps as well as customize it.
Secure IoT home automation systems offer a higher level of security than traditional security systems. No matter where you are, you can monitor and manage your house remotely using an app on your smartphone. Even when you're away, you don't have to worry about forgetting to close the door or having a burglar enter your home.
IoT Home automation Provides Effective Cost Savings
A wealth of research data proves that smart home devices are more energy efficient than the average. Lawrence Berkeley National Laboratory (LBNL) has done a study. The report shows that the standby mode of smart devices accounts for 10% of residential electricity consumption. And smart sockets can help us solve this problem. Smart outlets not only cut off standby power but also have precise information about the power consumption of each appliance. According to Canada's Global News survey, the smart thermostat feature can save you about 15% on your electricity bill. These smart devices, combined with the Internet, create an IoT home security system that saves you money and energy. If your home is unoccupied, it automatically turns off devices not in use in your home to reduce power consumption.
Environmental Impact
IoT home automation is a highly efficient energy saver that helps you reduce your living expenses. It also helps reduce negative and dangerous impacts on the ecosystem. Smart homes can use renewable energy that can be harvested and combined in various ways with minimal damage to the environment. IoT smart home devices are more likely to lead people to live an environmentally friendly life.
Security
An IoT-based smart security and home automation system is the ideal tool to protect your property. It helps you to keep an eye on everything in your home. Our common smart home devices include security cameras, smart lights, and smart door locks. Smart homes improve the performance of common home devices by incorporating artificial intelligence. They work together to give you a great experience.
Remote monitoring also allows you to keep track of your home from anywhere you are. IoT-based smart home security and automation systems can also alert you when unusual activity is detected. You can easily keep your home security in your hands with these IoT apps.
IoT Home Automation in Smart Home
Smart IoT sensors understand many user habits and help simplify their daily routines. They know the user's tastes, favorite types of music, temperature, meals, and bedtime. Smart lighting, home appliances, and audio and video devices also help improve the user's quality of life.
Smart Lighting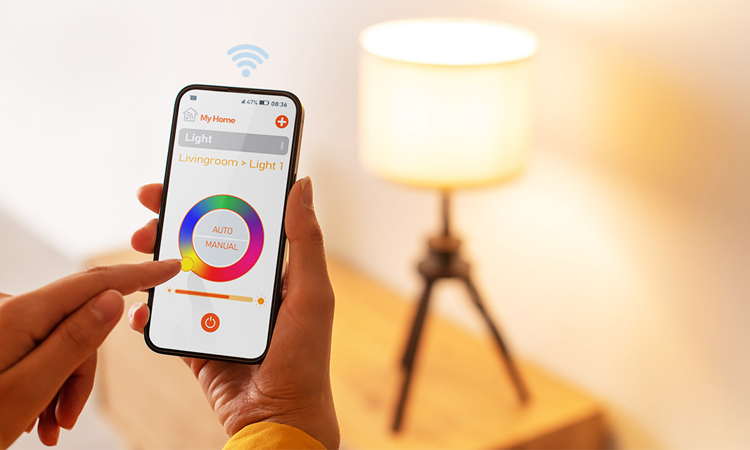 Smart lighting control is a very important component in the smart home scenario. It mainly consists of lighting, wires, and switches. It is different from the traditional fixed switches. Based on IoT technology, you can use mobile terminals such as smartphones and tablets to control the IoT smart lighting system in real time.
Smart lighting will give you a great experience. It allows you to control remotely, such as adjusting the color of the light, the sensitivity level, and the lighting time. The advent of IoT technology has made lighting control more flexible. You can control your lighting devices according to your needs. It includes changing the brightness of the lighting and the color of the light. You can also create uniquely colored lighting ambiances in different rooms. In addition, it also allows you to remote control lighting and sound control.
Smart Appliances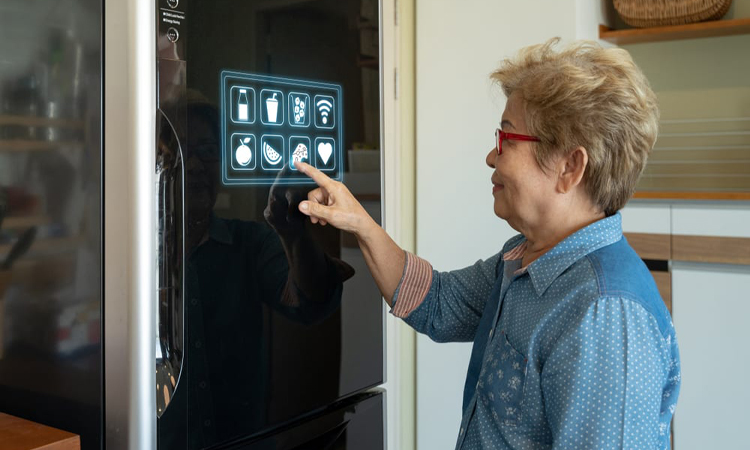 Smart home appliances are an important part of the smart home. Applying IoT technology to smart home appliances can significantly improve their intelligent operation. Generally, the main devices of smart home appliances include TV, air conditioner, and washing machine. With the support of IoT automation, they can communicate with mobile devices. You can monitor the operating status of the appliances through specific applications. You can also customize the operating mode of smart appliances according to your usage habits.
IoT can greatly meet people's needs for intelligent entertainment. In real life, people are more and more concerned about the entertainment function of home devices. People are enhancing interactivity with home entertainment devices through IoT home automation technology. Plus, IoT technology-based smart home devices can be functionally upgraded and innovated. Therefore they can meet the home entertainment needs of most people.
Smart AV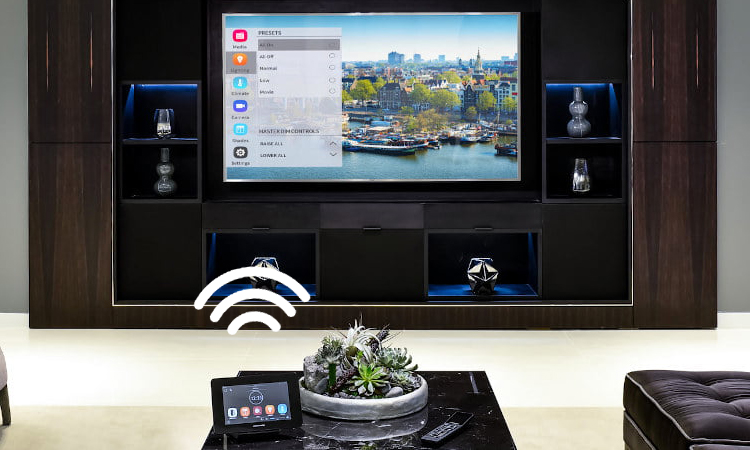 IoT home automation enables smart homes to control indoor audio-visual equipment. It can control DVDs, VCRs, and satellite TV.
The AV device allows you to control its volume, channels, presets, and more. It allows you to achieve a full range of control anytime and anywhere. You can switch your AV to match the effect you want to achieve according to the specific life scenario. Smart AV will make your home life more enjoyable.
Intelligent Monitoring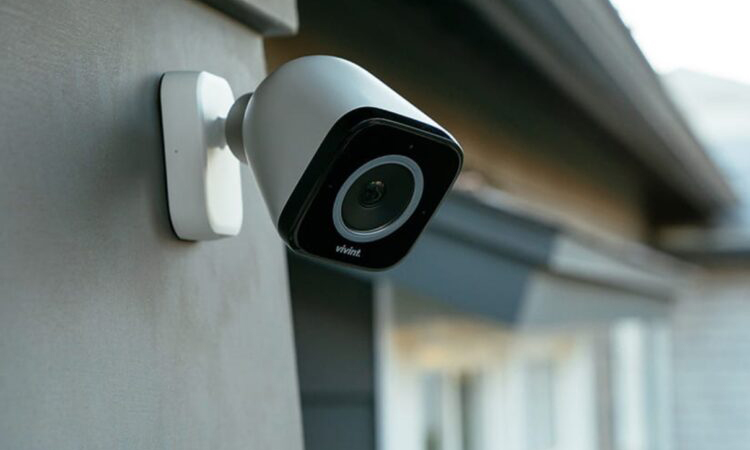 The smart home provides intelligent monitoring functions based on IoT home automation technology. It is mainly aimed at monitoring the running status of smart home devices and the user's health environment. The smart monitoring system also collects information and monitors the operation of smart home devices at any time. It will timely find equipment problems and troubleshoot to ensure that the equipment can run stably.
The smart monitoring system also has image recognition technology. It will intercept information from intrusion detection devices. It prevents unwanted interference from affecting smart home devices.
Smart monitoring systems can also play a significant benefit in the security of the smart home. It can monitor the health medium in the smart home environment, such as temperature, humidity, and light intensity. In addition, it also has an intelligent security function. It will identify the likeness and behavior of people entering the house. At the same time, it will also carry out human-computer interaction with the homeowner. It lets the head of the household know what's going on in the house by doing things like sending a message. The monitoring device will send an alarm if there is an abnormal condition. It can ensure the safety of the house.
Smart Bathroom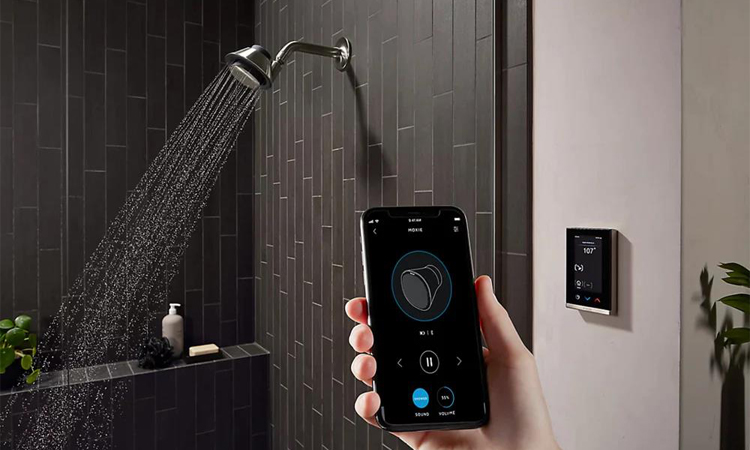 Smart bathrooms are one of the interesting examples of IoT home automation. Smart mirrors in the bathroom can connect to devices such as computers or smartphones to provide more functionality. The smart mirror detects the faces of family members in front of it and displays information of interest to them. This information includes news articles, weather forecasts, or other specific websites.
Sensors in the bathroom also automatically detect switches when the bathroom is unoccupied. If you forget to turn off the faucet, the sensor will turn it off for you automatically. The bathroom's smart shower controller allows users to set the custom water temperature and pressure. The smart shower controller will also save water by limiting the time the user can shower based on the settings.
You can also customize the functions of the automatic Jacuzzi through the app. You don't have to do manual work while enjoying a bath in the automatic Jacuzzi. It includes adjusting the right temperature and air jets and playing your favorite music.
Smart Kitchen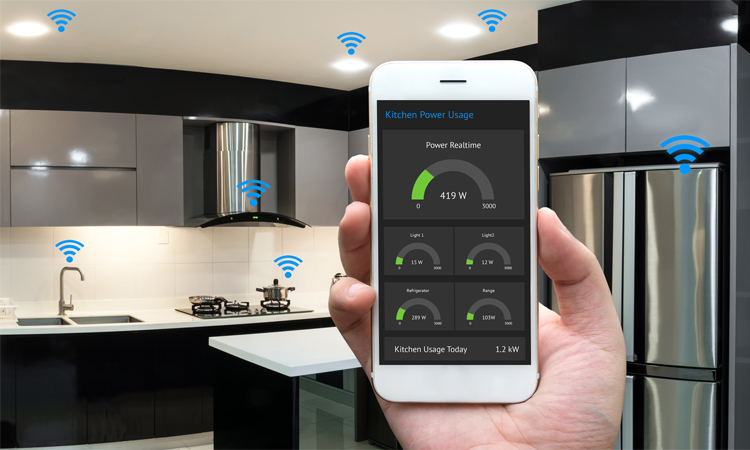 IoT home automation with artificial intelligence makes cooking safer and easier. Smart sensors in the kitchen monitor its smoke, nitrous oxide, temperature, and humidity levels. Smart sensors will ensure that everything is in order in the kitchen.
Some special built-in apps will give you even more benefits. It will keep track of the food in your refrigerator to ensure it stays adequate. It will also give you food suggestions and assess the nutritional value of your meals. Some common examples are smart spoons that prompt users to eat gently.
IoT home automation gives you complete control over your house. So even when you're not home, you can ensure everything in your home is working properly through specific apps. Encrypting the hub can also protect your IoT home automation system from hackers. Assuming you already have a home automation system, IoT home automation ideas may simplify your life even more.